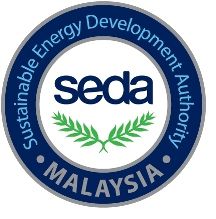 FiT SEDA Malaysia
SEDA Malaysia FiT, Feed-in Tariff, is Malaysia's mechanism to catalyse the generation of Renewable Energy (RE) and avoid the generation of millions of tonnes of carbon dioxide (CO2) from thepower generation sector. FiT allows electricity produced from renewable energy resources to be sold to power utilities (TNB, ) at a fixed premium price for a specific duration – dictated by the type of renewable energy.
FiT is applicable to all states in Malaysia with exception of Sarawak, a statewith its own legislation and regulations governing their electricity supply.
The Renewable Energy (RE) resources eligible for FiT are:
•Biomass (including solid waste);
•Biogas (including landfill gas & sewage);
•Small-hydro; and
•Solar PV.
Sustainable Energy Development Authority (SEDA Malaysia)
Malaysia Feed in Tariff scheme or programme will be managed by SEDA Malaysia. The Sustainable Energy Development Authority (SEDA) is a statutory body under the Ministry of Energy, Green Technology and Water (KeTTHA – Kementerian Tenaga, Teknologi Hijau dan Air). SEDA is a dedicated and focused agency to serve as a one stop Renewable Energy (RE) centre.
House Owners can sell electricity under FiT scheme
By installing a home solar system, house owners can now sell home solar electricity to TNB. SEDA Malaysia FiT incentive provides a fixed rate to the electricity generator (e.g. house owners) for every kilowatt hour (kWh) of electricity generated and exported to the grid. This rate provided under FiT is at a premium over the electricity rate that is being paid to TNB (Tenega Nasional Bhd) as it is an incentive for the generation of renewable green clean energy.
Install a home solar electricity system by installing home solar panels to generate clean electricity and earn passive income as TNB will buy back the energy from you.
Home Solar Malaysia
Home Solar Malaysia is One-Stop Centre providing services related to Home Solar Energy generation for landed homes to take advantage of the FiT scheme by SEDA Malaysia.
Home Solar Malaysia has the best pool of experts in the PV (photovoltaic) industry. The experts with will give you the best advice from the widest range of Solar PV products, sharing with you the technical and legal aspects of FiT, giving you the best after sales services, warranties and guarantees.